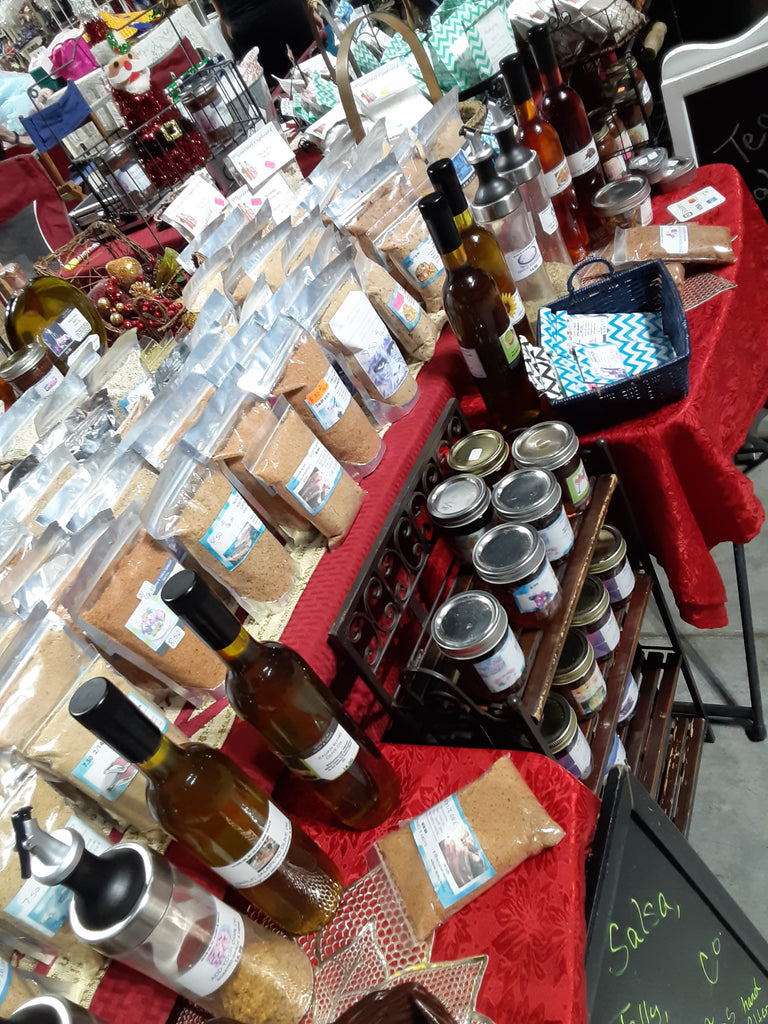 Glory and Grace Splendid Tea Co
My grandmother ran, what some call, a barbeque joint. Well Glory and Grace is not a Barbeque joint, but part of it is derived from my grandmother's business. First off, let's talk about the name. Some people say "Oh my goodness" some people say "well I declare" Grandma said, "oh my glory and grace." She sat in a smoky little man made barbeque shack all day every day. She got up early in the morning. I remember often waking up to the smell of breakfast cooking and barbeque sauce on the stove. The two do NOT pair well. I had no idea I would do half of what she did some day. 
Grandma would make you a barbeque plate that you would never forget. A piece of your choice of meat, potato salad, a piece of bread, and baked beans. That barbeque shack contained a barbeque pit that was almost as big as it was. There wasn't much work room because the pit took it all up. It was a dug out hole in the ground. They threw wood down in it, started the fire, and laid the huge sheet of chicken wire over the pit of fire. It was held down with two large pieces of wood on both sides. I saw that thing covered with chickens, ribs, hot links, and more. She sat on a bucket in front of it with large pots of barbeque sauce sitting next to her. She had a long stick with a rag on the end. She painted all that meat with that rag on a stick until you had the best barbeque you ever tasted. People literally drove from many miles away to buy her barbeque. Having a 4th grade education, she never wrote down her barbeque sauce recipe. She unintentionally took her recipe with her when she left this world. So, I cannot tell you that our barbeque sauce is her sauce.
Our sauce is my husband's grandmother's 80+ year old recipe, and although I didn't want to, I had to admit it was just as good. That is the sauce we sell here at Glory and Grace, but the company itself is derived from the idea of my grandmother's barbeque joint. 
In 2011, I decided to begin a tea company, not a barbeque business. The tea company started out slow, however it was succeeding, yet very slowly. One day I realized that the same spices used in teas, were also used in dry meat rubs and spices. The memories I had from long ago began to stir in me, and I began remembering what I saw in my grandmother's kitchen. We took six jars of two different flavors of dry meat rubs to a farmer's market the next weekend, and they were gone in 15 minutes. I knew then what was going to be the meat and potatoes of Glory and Grace Splendid Tea Co. Yes, we have the best teas in the Ark-La-Tex, and we ship all of our products all over the United States. However, the meat rubs and barbeque sauces, marinades, and more are the life blood of our company. 
Everything is made right here in our own kitchen. We work hard to see to it that all of our customers receive the best homemade products that they could get anywhere. I am my own competition. I don't care what the other companies are making. I don't care what they are charging. I don't try to do anything different because of what I see them do. I try to outdo this year what I did last year. I am my own competition, and I believe that is what has carried Glory and Grace Splendid Tea Co. as far as we have come.
Our teas pair well with the barbeque products, seasonings, and spices. We use only true, pure, and organic herbs, dried fruits, citrus, tea leaves, and flowers to create all of our wonderful teas. We have the best. You will not find our teas anywhere else in the U.S. Peach tea is made with real peach pieces, tastes like you are drinking a peach. We use real spearmint leaves, dried berries, spring flowers, and more to bring you the best in flavored and spice teas throughout the year.
Sit a spell and take time browsing the products, knowing that everything is homemade and good. We use nothing artificial in any of our products. We use different sea salts rather than any iodized salts. I have been in business now for eight years. We officially began this business in May of 2014, and have been doing markets, shows, and events every weekend ever since. 
GLORY AND GRACE SPLENDID TEA CO. 
flavored teas, dry meat rubs, spices, salts, seasonings, jellies, barbeque sauces, marinades, and more. 
Why use Shopify?
Shopify gives you everything you need to sell online and run an online store. Pick an ecommerce template, add your products, then launch your store to the world. Shopify includes ecommerce hosting, a shopping cart software, and more.
---
4 comments